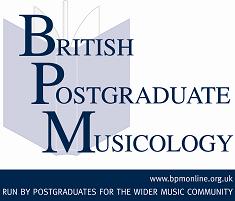 British Postgraduate Musicology
Announcements
This page is intended as a noticeboard for conference organisers, journal editors and others with information that might be of value to BPM's postgraduate readership. Calls for papers, conference announcements and information on new publications are particularly welcome. Copy intended for publication as received should be emailed to the editor: editor@bpmonline.org.uk. Most announcements will be published as soon as possible, but the editor reserves the right to refuse items considered inappropriate.
Volume 11: Now Online
The editors of British Postgraduate Musicology are pleased to announce the publication of Volume 11 of the journal. The new issue includes articles by Nirmali Fenn, Nikos Ordoulidis, Melanie Stier, Jonathan Clinch and Lauren Redhead. As always, the complete volume is available for free at this website, along with online back issues to 2001. We hope you find it of interest.
Volume 11: Call for Papers
Volume 11 will be published online in 2011 and article submissions on any subject within all fields of musicology are being sought. Articles should be up to 4,000 words in length; we also welcome reviews and responses to recent secondary literature, conferences and events (up to 2,000 words), as well as announcements, letters and event listings. The deadline for article submission is Friday 24th June.

Please email submissions (most common document types are accepted) to bpmusicology@gmail.com or editor@bpmonline.org.uk. Please see notes below should you wish to contribute.
The Association of Postgraduate Journals: Annual Meeting
The annual meeting of the Association of Postgraduate Journals will take place at the University of Birmingham on Tuesday June 14th 2011, hosted by the journal Rosetta.

All postgraduate journals are invited to send representatives, whether they are currently a member of the APJ or not. The annual meeting of the APJ is an excellent opportunity for editorial teams to reach out to others in the same position, to share tips and ideas, and to network.

The day will feature both talks from individual journals and a roundtable discussion between all participants. Delegates are also invited to the wine reception in the evening to celebrate the launch of Rosetta's tenth issue.
SysMus08
The Tenth Volume of British Postgraduate Musicology has now been published. In November 2008, we embarked upon a collaborative project with the 1st International Conference of Students of Systematic Musicology (SysMus08) that was held at the University of Graz, Austria. In a special issue, we have published the best papers from those submitted for inclusion in the proceedings of this conference, along with a conference report. This sees the first collaboration of the BPM with an international conference - a prospect we have been very excited about! – as we very much look forward to publishing the highlights of this event.
Clarification Regarding BPM Volume 10
It has been brought to our attention that the original marketing material regarding BPM Vol. 10 implied that the five articles included were the most outstanding papers presented at the conference. This was not the case. The articles included were selected from those submitted to be considered for publication. The BPM apologises for any inconvenience caused and hopes this matter is now clear.
Association of Postgraduate Journals
British Postgraduate Musicology are delighted to announce that we have become a founding member of the board of The Association of Postgraduate Journals. The APJ has been set up as a forum for postgraduates on the editorial boards of journals that acts in practice as an advisory, training, support and advice board for those embarking on this editorial process. The main manifestation of the APJ is through an online presence. Members of the board collectively bid for funding to finance an annual training event, to which each journal is permitted to send two staff, thus giving all journals a funded opportunity to meet face-to-face at least once a year. At the BPM we hope to take full advantage of formally training two of our editorial board annually, who will be able to provide internal training for the remaining members of the editorial board. The APJ also aims to act as a bigger voice for postgraduates to larger funding bodie. It is an independent organisation that does not have an affiliation with an academic institution or other external bodies (even the training events are on a rotation system to be held at different UK universities). This independence, however, does not detract from the strength and appeal that it has to academic institutions. As the BPM is the only Postgraduate Journal to be a member of the APJ without a permanent affiliation to a university, the APJ therefore provides us with these links as well as to the National Postgraduate Committee. Fundamentally, the APJ is an advisory board that is not interested in standardisation of postgraduate journals, but ultimately aims to exalt best practice amongst its members through the dissemination of useful information primarily though the use of web technologies.