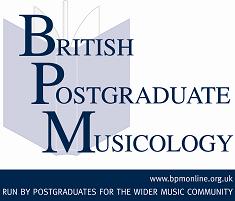 British Postgraduate Musicology
Back issues
Before BPM online, the first three volumes of British Postgraduate Musicology were published as a paper journal (ISSN 1460-9231). A limited stock of Volumes 1 & 3 is still available for purchase. By buying copies of these volumes, you will support the future of BPM online.

Back issues from Volume 4 onwards are available online below; full contents pages for volumes 1–3 are also included.
Volume 1 – October 1997 [Contents]: Featuring articles on Rimsky-Korsakov, Grieg, Debussy, Rihm and Stravinksy.
SOLD OUT Volume 2 – October 1998 [Contents]: Featuring articles on Massenet, Kagel, Sondheim and J.S. Bach.
Volume 3 – October 1999 [Contents]: Featuring articles on Britten, Ligeti, Javanese shadow puppet performance, Jánaček and Schoenberg.
Volume 4 – March 2001: Featuring a guest editorial, plus articles on Mille Plateaux records, Puccini, Skalkottas, Jazz in Britain, and a conference report on RMA 2000.
Volume 5 – June 2002: Featuring articles on Zorn, Purcell, the Royal Court under Edward IV, Dillon and Catholic church music.
Volume 6 – January 2004: Featuring a guest editorial, plus articles on the 'Artusi–Monteverdi' Controversy, Mendelssohn reception, Madonna and Moulin Rouge!, and Tallis's keyboard works.
Volume 7 – June 2005: Featuring articles on the sixteenth-century herculana, the role of Stravinsky's piano fingering in his compositional practice, eroticism in Scriabin's Fourth Piano Sonata, and 'abject tonality' in Berg's Altenberglieder.
Volume 8 – June 2006: Featuring articles on Bolognese sacred cantatas, Orientalism in Mozart's Die Entführung aus dem Serail, Beethoven and Hollywood, and 'Spectres of terror' in Chilean Performance.
Volume 9 – February 2008: Featuring articles on female personae in old French song, music in Fascist Spain, Indeterminate Music, Giya Kancheli's Exil, and a review of the Society for Musicology in Ireland's 2006 conference.
Volume 10 – June 2009: Special edition featuring the proceedings of the International Conference for Students of Systematic Musicology. Includes a conference report plus articles on Vivier's musical style, the designation 'Woman Composer ' and the tonal structure of Chopin's Etudes.
If you would like to order either or both Volumes 1 & 3, prices are as follows:

Students – £5 per issue
Individuals – £10 per issue
Institutions – £15 per issue

To order copies, please e-mail the Editor. Postage and packing will be charged. Any money raised through sale of the paper copies of the journal will be used solely to support the future of BPM online.
Questions regarding orders may be sent to editor@bpmonline.org.uk