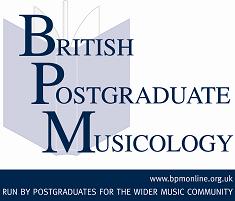 British Postgraduate Musicology
Editorial board
RACHEL JEREMIAH-FOULDS (Editor-in-chief) attained BMus Music (Hons) from City University where she graduated the recipient of the Worshipful Company of Carmen Prize. She was then awarded MMus with distinction in Russian Music Studies, having pursued postgraduate studies at the CRM, Goldsmiths College, University of London, where she has since submitted a PhD thesis under the supervision of Professor Alexander Ivashkin. Rachel has spent a significant amount of time researching in St Petersburg and, in 2008, was awarded a residency scholarship to work in the Ustvolskaya Collection at the Paul Sacher Archive, Basel. Rachel has taught Russian Music Studies to both undergraduates and postgraduates in various London universities including City University, Goldsmiths College and GSMD. Rachel took over as Editor-in-Chief of British Postgraduate Musicology since 2008 and has seen her research presented and published internationally.

WILL LOCKART completed his undergraduate degree in Music at Gonville and Caius College, Cambridge in 2006, where he was awarded the William Barclay Squire Prize for achieving the highest result of his graduating year. He studied for his Master's degree in Music at King's College, London where he worked with Professors Daniel Chua and John Deathridge on a dissertation which contained a Heideggerian reading of Beethoven's Missa Solemnis and which interpreted this analysis in light of the relationship between Heidegger and the Frankfurt School. On graduation he was awarded the Hilda Margaret Watts Prize. Will is currently studying for his PhD with Professor Dr. Dr. h.c. Hermman Danuser at the Humboldt-Universität zu Berlin, whilst also in residence as a Pre-Doctoral Research Scholar at the Max-Planck-Institut für Wissenschaftsgeschichte where he is a member of an independent research group investigating the history and philosophy of listening.

JENNY TAMPLIN is currently completing AHRC-funded doctoral work at Oxford University on the role of loss and melancholy in the re-emergence of the myth of Orpheus in the twentieth century. She holds a BA (Hons) in Music and French from the University of Bristol, and an MA in Music from Newcastle University, where she wrote on subjects as wide-ranging as black musics and Birtwistle. At present she gives tutorials at Oxford on contemporary music courses, as well as teaching on issues in musical thought and aesthetics. Whilst the main focus of her thesis is the music of Stravinsky and Birtwistle, she has also recently given a paper on recording technology and repetition in James Brown. She maintains her interest in contemporary music by playing with Ensemble Isis and has recently founded a reading group at Oxford to discuss new scholarship and debates in music.

STEPHEN GRAHAM is a third year PhD student at Goldsmith's, University of London, where he is conducting research on critical and aesthetic issues surrounding underground experimental music under the supervision of Keith Potter and Keith Negus. Stephen completed his BMus at UCD in 2006, gaining first class honours, and an MMus at King's College London in 2007, with a distinction awarded for a dissertation on Theodor Adorno's essay '…vers une musique informelle'. He has been published in Perspectives of New Music, The Journal of the Society of Musicology in Ireland, and The Musicology Review, and is a regular contributor to the Journal of Music. He writes reviews for Rock-A-Rolla and Musical Criticism, has been published in The Guardian, and recently completed a series of entries for the twenty and twenty-first century sections of the forthcoming Encyclopedia of Music in Ireland. Stephen was awarded the Patrick Semple Medal for music at U.C.D. in 2004, and his doctoral research is fully funded by the N.U.I.

AISLING KENNY, is a John Hume Scholar and Government of Ireland Postgraduate Scholar of the Irish Research Council for the Humanities and Social Sciences. Supervised by Dr Lorraine Byrne Bodley, Aisling is currently engaged in doctoral research on Josephine Lang's Goethe, Heine and Uhland Lieder at NUI Maynooth. In 2008, she was awarded a grant from the Society for Musicology in Ireland to undertake archival work at the Württembergische Landesbibliothek, Stuttgart where the majority of Lang's manuscripts are housed. Publications include papers on 'Lang's Goethe Settings' and 'Tensions between the 'serious' and the 'popular' in nineteenth-century music' in NUI Maynooth Musicology Journal Vols I & II, and 'Integration or Isolation: considering implications of the designation 'woman composer'' in the British Postgraduate Musicology Journal, Vol. 10. She has written several articles on Irish singers for The Encyclopaedia of Music in Ireland. Aisling has delivered papers and lecture recitals at conferences in Ireland, the UK and Austria. Invited lectures include a seminar on Women and Church Music throughout the ages, at Christ Church Cathedral, Dublin. She was conference director of the Second Annual Postgraduate Students' SMI Conference ay NUI Maynooth in 2009. Aisling holds performance diplomas in piano and singing. Currently studying with Mary Brennan, she has also taken masterclasses with Aylish Kerrigan in Germany. She was a soprano lay-clerk of Christ Church Cathedral Choir, Dublin, from 2005 – 2008, where she performed frequently as a soloist, giving a recital of Lang's Lieder in 2005 with pianist, Judith Gannon. She is currently a member of the acclaimed Dublin-based chamber choir, Resurgam

ANDREW WOOLLEY studied at the University of Leeds with Peter Holman. His Ph.D. thesis (2008) is a study of English keyboard music and its sources from the period c.1660-1720. In 2011 he was awarded the J. Merrill Knapp Research Fellowship from the American Handel Society and also a UCLA Center for Seventeenth- and Eighteenth-Century Studies/ Clark Library Fellowship. With Erasmo Estrada he co-organised the '1st International Conference on Historical Keyboard Music: Sources, Contexts and Performance', which took place at the University of Edinburgh in July 2011. In October 2011 he commences a two-year Leverhulme Trust Early Career Fellowship in the Department of Music at the University of Edinburgh to research a project entitled 'Beyond London: Archival Records of Musical Life in Eighteenth-Century Edinburgh'. Andrew is also an active performer as a cathedral singer and keyboard player, and is editor of the performance practice journal *Early Music Performer* (the Journal of the National Early Music Association, UK).

IOANNIS POLYCHRONAKIS is currently writing up his doctoral thesis in Ethnomusicology at the University of Oxford, which has been funded by the State Scholarships Foundation of Greece. He has been working under the supervision of Dr Martin Stokes and Prof. Emanuele Senici, investigating the ways in which Greek popular music mediates national and gender identities from the nineties onwards. Having completed a five-year undergraduate programme in Music Studies with specific focus on Historical Musicology at the University of Athens, Greece, he embarked on postgraduate studies in the UK. In 2005 he was awarded an MSt in Musicology (Aesthetics and Philosophy of Music) by the University of Oxford, while in 2006 he finished an MMus in Advanced Musical Studies at Royal Holloway, University of London, with a binary specialisation in Twentieth-Century Piano Performance and Popular Music Studies. Ioannis is also an active pianist and a freelance music journalist, while he works as a teaching assistant at the University of Oxford, conducting classes and tutorials in Ethnomusicology, Musicology and Keyboard Skills.