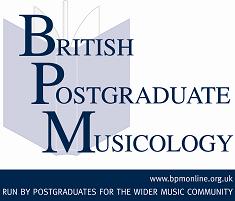 British Postgraduate Musicology
British Postgraduate Musicology is an independent peer-reviewed musicological journal run by postgraduates for postgraduates. Under its title it aims to display the quality and diversity of scholarly studies produced primarily (but not exclusively) by postgraduate or recent postdoctoral students of music in the United Kingdom. Contributions are invited on any topic within the spheres of historical, analytical, critical or ethno – musicology. There is a short section for reviews, reports and notices particularly pertinent to postgraduate researchers.

BPM is published annually online, is available free-of-charge, and is read by hundreds of scholars around the world. BPM is an excellent opportunity to gain experience of the publishing process and get that first publication for upcoming musicologists. Postgraduate "transfer of knowledge" jumps on the bandwagon of the current emphasis on skills and development that is found in the contemporary postgraduate climate, and therefore puts us at the forefront of academic activities today.

Every effort has been made to make BPM online as accessible as possible. This site includes the full text of the current volume of British Postgraduate Musicology, as well as back issues from volume four onwards. Contents pages for volumes one to three (the printed copies) are also available online, and a limited number of hard back-copies of these volumes are available for sale.
If you would like to read the current volume or back issues, contact the editor, or simply find out more about the journal and this website, please explore the site using the navigation bar on the left.
Volume 11: The editors of British Postgraduate Musicology are pleased to announce the publication of Volume 11 of the journal. The new issue includes articles by Nirmali Fenn, Nikos Ordoulidis, Melanie Stier, Jonathan Clinch and Lauren Redhead. As always, the complete volume is available for free at this website, along with online back issues to 2001. We hope you find it of interest.

Rachel Jeremiah-Foulds and The Editing Board
British Postgraduate Musicology
Open call for papers
Articles for future issues of the journal are always welcome: please see the contribute page for further details.

Please email submissions (most common document types are accepted) to editor@bpmonline.org.uk.

Rachel Jeremiah-Foulds
Editor, British Postgraduate Musicology
If you have any comments or questions about the site, please email editor@bpmonline.org.uk. If you wish to discuss issues raised by any of the current volume's articles with their authors, please see the notes on contributors for contact details.